About
Green Terra Consulting's mission is to assist EU organisations to execute their business activities in a sustainable way. Energy savings, greenhouse gasses reduction, waste minimization and supporting and initiating the energy transition are our main objectives. Green Terra Consulting was established in 2019.
Green Terra Consulting wants to contribute to Sustainable Development Goal (SDG) 13 of the United Nations by supporting governmental organizations and businesses in the EU.
Odin Schut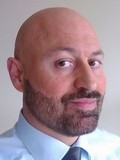 Founder Odin Schut has over 20 years of experience in corporate life as an entrepreneur and in various positions as an account manager, sales director, managing partner, project leader and management consultant in IT, civil engineering, and the public sector. In 2017 he made a switch to sustainable development based on intrinsic and personal motivation. Odin Schut has a passion for natural sciences and sustainable development.
Odin Schut holds a bachelor in economics, an MBA degree from a renowned business school, and an MSc university degree in environmental sciences. The unique combination of his business, management and environmental sciences knowledge and work experience adds value to our clients.
SDG 13 Climate Action
The United Nations has formulated 17 SDGs. SDG 13 Climate Action comprises taking urgent action to combat climate change and its impacts.
The UN follows the strong recommendations of the Intergovernmental Panel on Climate Change (IPCC) to keep global warming under 1.5o C in the year 2040. In the Paris agreement, a worldwide effort is made to reduce CO2 emissions by 49% before the year 2030 compared to the year 1990.
In order to achieve this CO2 reduction, the use of energy from fossil fuels must be reduced swiftly and simultaneously the use of energy from renewable sources will have to grow considerably; the energy transition.